This wiki is no longer updated, please check out our new wiki at
http://iblamelee.co.uk/pwo/wiki/index.php
. Any membership requests will be rejected. You can sign up for the game via the on the Playerdex (playerdex.pokemon-world-online.net/register.php).
Rare Pokemon
Pokemon are divided into four categories: common, rare, very rare, and horribly rare. Rare pokemon can usually be found in a few hours, very rare pokemon will take up to a day or two and horribly rare pokemon can take weeks. This section will cover very rare and horrible rare.
Don't forget you can type /list pokemon to find any pokemon in the game! (For example: /list Pikachu)
Guide to catching rare pokemon successfully

1. First of all, make sure you always have pokeballs on you... They are cheap and easy to replace. As soon as you use one, buy a replacement! Always have at least 10 at all times, but more is better. Trust me, you will be beating yourself up if you miss out on Pikachu because you spent less than 1K on balls.

2. Before you even waste pokeballs, lower its health. Use very weak attacks! Right now some of the attacks are unbalanced/buggy so make sure you know what an attack does before you use it. Poison powder is a great move that does tiny damage each turn. Also, try using a pokemon that will have a type disadvantage to the pokemon you're trying to catch, so that you don't accidentally kill it.

3. Don't chat while you are battling a rare pokemon! By pressing space sometimes you will accidentally flee from battle.
Horribly Rare Pokemon:
(note: some of these pokemon are also very rare/rare/common in other areas)
Machop - Rock Tunnel, Mt Moon BF1

Cubone - Route 9, Route 10
Scyther - Viridian Forest, Safari Zone 1
Seedot - Cinnabar Tunnel
Snorlax - Route 12
Sudowoodo - Route 36
Carvanha - Science Lab - Water lvl2
Spheal - Science Lab - Water lvl2
Rhyhorn - Safari Zone 4
Gastly - Route 36, Pokemon Tower F6, Pokemon Tower F7
Heracross - Route 34
Remoraid - Route 44
Koffing - Secret Tunnel
Phanpy - Route 45, Route 46
Jynx - Ice Path F1, Seafoam Islands B3F, Seafoam Islands B4F
Onix - Mt Moon BF2, (VR on Union Cave)
Wobbuffet - Dark Cave East
Teddiursa - Johto Safari Zone (VR on Dark Cave)
Cyndaquil - Johto Safari Zone
Totodile - Johto Safari Zone
Chikorita - Johto Safari Zone
Corsola - Olivine City, Cinnabar Island, Route 19, Route 20, Route 21
Barboach - Johto Safari Zone
Chinchou - Route 45, Vermillion and other rare places)
Pinsir - Viridian Forest, Safari Zone 2
Chansey - Safari Zone 1, Safari Zone 3
Duskull - Pokemon Tower F7
Elekid - Power Plant
Gligar - Mt Moon F1
Houndour - Route 7
Kangaskhan - Safari Zone 2, Safari Zone 4
Marill - Route 42
Miltank - Route 38, Route 39
Mr. Mime - Route 21
Omanyte - Seafoam Islands B4F
Quagsire - Route 13
Skarmory - Route 45
Slugma - Route 18, Route 17, Route 16

Dratini - Science Lab-Water lvl2

Slugma - Route 18, Route 17, Route 16
Ponyta - Route 17, Route 26, Route 27

Elekid - Power plant

Qwilfish - Route 12, Route 13

Shellder - Route 11, Route 18, Route 21, Vermillion (and other rare places)

Kabuto - Cinnabar Tunnel West, Cinnabar Tunnel East
Ditto - Route 14, Route 15

Sneasel - Ice Path BF3, Ice Path BF2
Ursaring - Dark Cave West
Very Rare Pokemon:
Snubbull
Aipom
Farfetch'd
Vulpix
Exeggcute
Golduck
Jigglypuff
Lapras
Magnemite
Tauros
Sunkern
Tangela
Weepinbell
Poochyena
Staryu
Pikachu

Murkrow

Swinub

Teddiursa

Venomoth

Lickitung


Pikachu, Pinsir and Scyther
Location: Viridian Forest. Be warned, it is very hard to find and may take up days. Scyther and pinsir are found in this location as well.
Onix
Location: Onix is found in Mt. Moon BF1 only if you are just starting your journey . If you are going to Cerulean from Pewter, he is found in the small room with two ladders.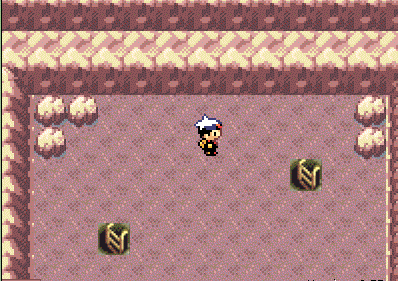 Machop and Clefairy
Location: In Mt Moon BF2. You can probably get it on any part of BF2, but here's a screen showing you the area where I found mine. (Machop)
Snorlax
Route 12
Cubone
Location: Route 14
Ditto
Location: Route 13, 14 and 15.
Dratini, Lapras, Carvanha and Spheal
Located in an underground room reachable only after you've finished a pair of quests. You'll need a rod and LOTS of patience.
Sudowoodo and Gastly
Hidden well on Route 36, Sudowoodo only appears in one patch of grass. You hear us - one. (Not one tile, the entire grassy area in this picture).Gastly will only appear at night on the same patch of grass or you can find it at the Lavender Town ghost tower on the last floor. Happy hunting.

Teddiursa
Location: Into Johto Safari Zone (Cianwood City) - in the top left side of the map. It can also be found in the north caves
of Secret Area 1..